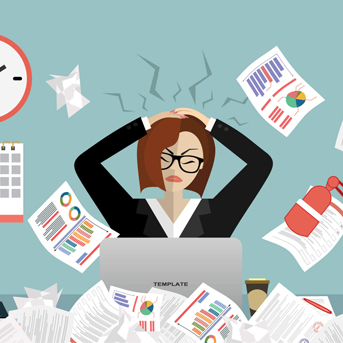 Stress Awareness Week 2020
For UK employers, workplace stress is a serious issue. In the UK over 12.5 million working days are lost every year because of stress. These stress related absences cost the UK industry £12.47 billion each year.
Certain factors at work may indicate a potential problem:
An increase in absenteeism (sick leave)
Presenteeism (attending work while sick)
Leavism (taking leave to catch up on work)
Arguments and disputes with colleagues
A tendency to work late and not take breaks
A loss of sense of humour, replaced by irritability
A decrease in work standards
Indecisiveness and poor judgement
A problem with drinking or drug taking
More accidents at work
A tendency to suffer from headaches, nausea, aches and pains, tiredness and poor sleeping patterns
Below is a guide to coping with work stress:
Take Breaks: Taking breaks away from a stressful task can help you stay calm. Working in 90-minute cycles with breaks in-between can help optimise productivity and can help you shorten the time it takes to complete a task.
Breathe: Taking a few deep breaths allows more oxygen to reach the brain, helping you become calm and restore concentration and focus: Take a nice slow deep breath in through the nose and fill the belly up with air Hold at the top of the breath for 5 seconds and then slowly exhale through the mouth, pulling the navel to the spine Repeat 5 times
Manage your time optimally: Stress often results from difficulty in coping with day-to-day problems and conflicting responsibilities. A useful strategy for dealing with a sense of being overwhelmed by all the things that need attention is prioritising and diarising: Make a list of all the things that you need to do; list them in order of genuine importance; note what you need to do yourself and what can be delegated to others; note what needs to be done immediately, in the next week or next month, etc. Create time buffers to deal with unexpected emergencies – this is a great way to prepare and avoid excess stress Arrange your workload to match your energy levels, e.g. if you know that you have an energy boost in the mornings, use that time for high energy or creative tasks
Talk to someone: We've all heard of the saying "a problem shared is a problem halved" and, like most clichés, it's founded on a grain of truth. If you are troubled by something, don't supress it. Instead: Speak to a friend or family member If you don't feel comfortable speaking to a loved one or if feel you stress is putting you at risk, visit your GP. They can signpost you to the relevant help If you want to speak to someone anonymously, contact the Samaritans: 08457 90 90 90* (UK) *Calls will cost 2p per minute plus your telephone company's access charge 116 123 (Republic of Ireland) – Free to call http://www.samaritans.org/
Below are some useful links for employers and employees regarding Health and Safety Executive guidelines and legal requirements.