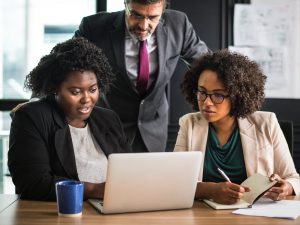 Level 5 managers are responsible for everything from creating and delivering operational plans, managing projects, and leading and managing teams, to managing change, financial and resource management.
Responsibilities also include talent management, coaching and mentoring. Roles may include those of Operations Manager, Regional Manager, Divisional Manager, Department Manager as well as other specialist managers.
Key Facts
Course Duration: 18-24 Months
Training Venue: Work placement
Includes: ILM Operations / Departmental Manager Level 5, Employer Rights and Responsibilities, Functional Skills Maths, English & ICT (if required)
Qualification Type: Apprenticeship Standard
Curriculum Includes
Application of knowledge and demonstration of skills and behaviours relating to:
Leading people
Managing people
Building relationships
Communication
Operational management
Project management
Finance
Self-awareness
Management of self and decision making
Taking responsibility
Inclusivity
Being agile
Professionalism
What support do learners receive?
Online Learning
Our programme is developed with a blended approach giving apprentices support in both the workplace alongside online learning resources to support their development.
Apprentices are provided with their own unique portal they can access to upload their work and receive feedback from their assessor.
Access to a vast amount of learning support materials that can be accessed at any time so they can make the most of their face to face training.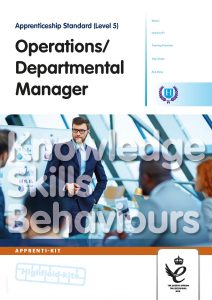 Learners will be issued an innovative  Apprenti-kit. This specifically supports the knowledge-based qualifications of apprenticeship standards, with tasks included to suit different learners' needs and styles. Each Apprenti-kit includes a welcome booklet, textbooks and workbooks.
Dedicated Tutor Support
RM Training assessors support apprentices throughout the programme, provide a single point of contact for any questions or help your apprentice needs and help apprentices to build their portfolio as the programme progresses.
Meet apprentices and their managers regularly in the workplace to check their progress and provide support where required.
Entry Requirements
Apprentices must not hold a level 4 or university degree, must be 16 or over by the end of the summer holidays and must have lived in the EU/EEA for the last three years.
No time for an Apprenticeship?
Ask us today about how we can deliver this qualification and course commercially over a shorter period of time.
Contact us on info@rmtraining.co.uk, call us on 01322 217072 or complete the following contact form:
Check out our current vacancies here:  https://rmtraining.co.uk/vacancies/